mica
Moderator
Username: mica

Post Number: 3208
Registered: 6-2000

| | |
| --- | --- |
| Posted on Monday, April 03, 2006 - 9:18 pm: | |
---
Usually, this is a problem from using the incorrect polarity on the transformer. There is an illustration printed near the connector to remind you to always use one with a center positive and the voltage range is from 10.5-17VDC.

To test if the choke has failed, use a voltmeter to ground, and you should see the same reading on both sides of the choke (ie 16V on both sides).

Here's where to find it: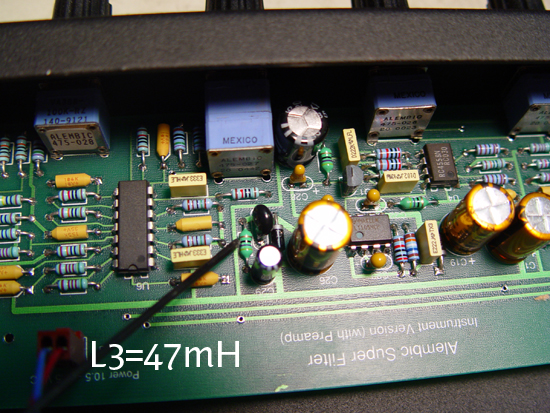 It looks like a resistor, but it is a 47mH choke. If you can't find that exact part, you can use a 1/10 watt fuse instead (never exceed 1/2 watt).

Or, if you are really brave, and need it functioning in a hurry, you can use just a wire, but understand that the choke protects the rest of the unit if the polarity if wrong. If you eliminate the choke, a more expensive repair will be in your future if the same thing happens again.