jrbassman
New
Username: jrbassman

Post Number: 3
Registered: 12-2002

| | |
| --- | --- |
| Posted on Wednesday, April 25, 2007 - 3:38 pm: | |
---
Hello again, Fellow Alembites/Alembiphiles!

I am offering for sale the last 2 of 3 UK Trace Elliot bass stacks actually used by Greg Lake on the last two ELP tours! I acquired these as a result of my ELP tribute band's relationship with Keith Emerson's technical staff, who had come to see us perform in Santa Monica, CA. This system is in excellent condition. I am a pro sound technician, and have verified that all components are fully functional. This rig ROCKS! The system consists of:
Quan. 2- 1 X 15" Bass cabinets model 1518.
Quan. 2- 4 X 10" Bass cabinets model 1048H (w/Horn).
Quan. 2- Road Cases, 1 for each pair of Bass Cabinets.
Quan. 2- 4 X 5" "Bright Box" model 4052H tweeter arrays.
Quan. 2- RA 600 300 Watt/Channel Stereo amplifiers w/BiAmp Crossover built-in
Quan.1- Custom shock-mounted amp/FX rack.
Complete Custom cabling.
'ELP GREG LAKE' embossed on custom road cases.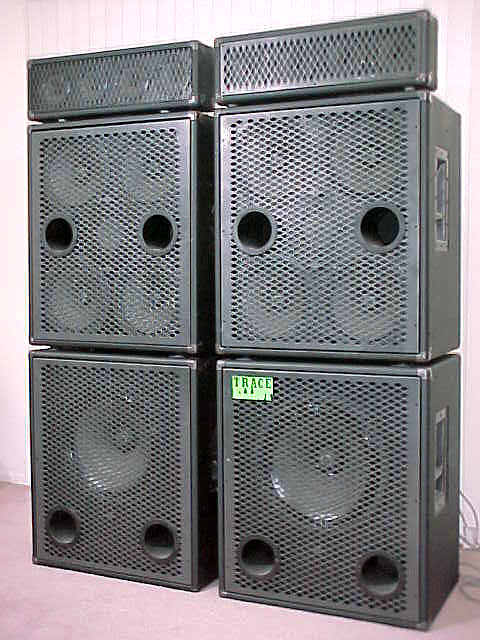 Due to a nerve injury affecting the use of my right hand 2 years ago, I have had to discontinue playing. I never got to use these live myself. I know that you are all aware that Greg Lake and the late John Entwistle (Alembic players both!) used these original UK Trace Elliot products to amplify and project the incredible power of their Alembics. Now, you can have that massive tonal power on your stage!

I am asking $3200 for the entire package- if you buy both stacks, you get the rack for the amps, and cabling for both stacks, included. All you have to do is feed a signal from your preamp to complete this rig. I am not offering the Trace preamp as it is in need of repair, and I wish to keep it for myself after I fix it.

I am also willing to split the system into the 2 separate stacks with amps, for $1600 each, minus the empty amp rack and cables.

The system can be auditioned at my home in Ventura, CA., if you are in the area. I can be emailed at: creative_audio@earthlink.net
I can supply more pics upon request. Thanks for your interest.

Regards,

John