midmoto
Junior
Username: midmoto

Post Number: 25
Registered: 2-2005

| | |
| --- | --- |
| Posted on Thursday, January 03, 2008 - 7:32 am: | |
---
I have a MINT NYC 5 w/ case that I am willing to let go of. I just dont play 5's much any more. The was bass purchased new by me so its dead mint. Asking $3200.00
Trades..
I can trade up or down with cash or other basses/ amps etc..
Looking for a Brown bass, SC or MK 4 string.
Will also consider Essence or Orion . Fretless ok Led's a big plus.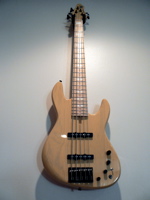 (Message edited by midmoto on January 03, 2008)