earthling2663
New
Username: earthling2663

Post Number: 2
Registered: 8-2006

| | |
| --- | --- |
| Posted on Saturday, August 19, 2006 - 9:37 am: | |
---
The origin of this bass is quite a long story, which I won't put here, now. Suffice it to say that this bass began it's life because of a slip/trip with a router at the Alembic factory. However it started, I'm happy to be the owner of this incredible instrument.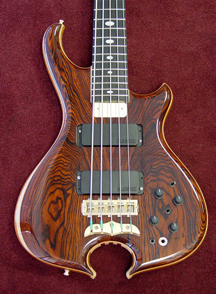 fc_spoiler
Advanced Member
Username: fc_spoiler

Post Number: 259
Registered: 5-2006

| | |
| --- | --- |
| Posted on Saturday, August 19, 2006 - 9:44 am: | |
---
Wow, Indeed a beauty! I'd like to read the story and I bet I'm not the only one here...

Congrats!
F.C.