dela217
Advanced Member
Username: dela217

Post Number: 220
Registered: 6-2002

| | |
| --- | --- |
| Posted on Wednesday, November 19, 2003 - 2:20 pm: | |
---
This is a bass that Alembic made custom for me. It was based on a combination of some of my Series basses and on a 20th Anniversary bass that I once owned. I liked the Anniversary bass, but it was just too big for me. I am so used to the small bodied basses. This bass was a Featured Custom from September of 2000. You can go to the archive and check it out. It really has some nice features.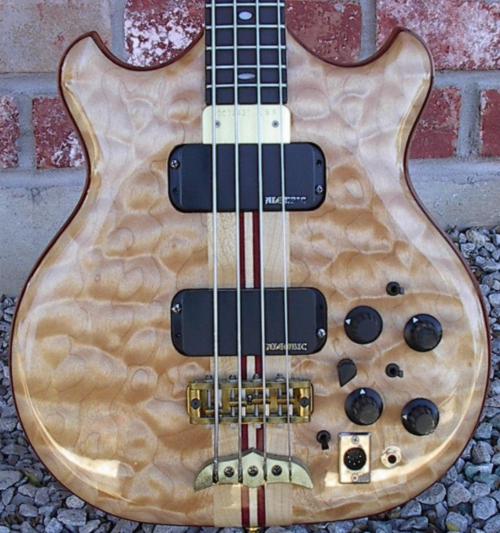 You can see from the picture that it is still in great shape, except the wear to the neck pickup. When this feature was made, I opted for the Anniversary electronics. At the time the noise reduction upgrade for the Series electronics was not yet available. I wanted a bass that would be completely quiet. I think if I were doing it over today, I would go for the Series electronics.



(Message edited by dela217 on November 19, 2003)
blazer
New
Username: blazer

Post Number: 4
Registered: 12-2003

| | |
| --- | --- |
| Posted on Monday, December 08, 2003 - 2:25 pm: | |
---
Looking good.

I'll tell you that if I would have that chance to play one like that that I would probably be playing the "School days" riff for quite some time.