mica
Moderator
Username: mica

Post Number: 4805
Registered: 6-2000

| | |
| --- | --- |
| Posted on Wednesday, September 12, 2007 - 5:19 pm: | |
---
Hi Ezra,

We're getting ready to drill the electronics for your guitar, and need to review the layout. This is the same patternthat you supplied, but the controls are placed with enough room for the circuits on the inside, and the large footprint of the jacks: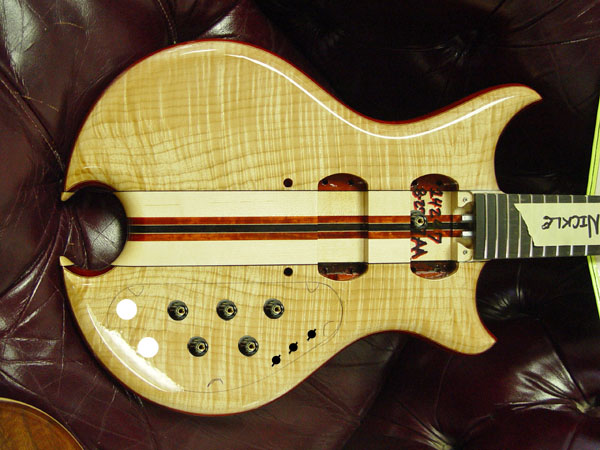 The only difference besides the spacing is the switch positions - with where the knobs had to land, orienting the string more vertically would have the switches awfully close to the bridge pickup.

The sharpie line on the front shows the control plate shape, and the mounting lobes for where the screws for the backplate will fasten.
eardolin
Junior
Username: eardolin

Post Number: 30
Registered: 8-2006

| | |
| --- | --- |
| Posted on Wednesday, September 12, 2007 - 10:35 pm: | |
---
Hey Mica-
Thanks for setting this up for me to see- I'll probaby post a similar comment in the build record but I must say this looks absolutely beautiful!-

I see the difference in the control layout and I think it works- By having the line of switches follow the contour of the body shape we also wind up with a little more space around the master vol control- This seems to make sense as I'm pretty sure that control will be used most frequently- So yes to it all, let's make some holes...