series_iii
Intermediate Member
Username: series_iii

Post Number: 115
Registered: 8-2005

| | |
| --- | --- |
| Posted on Thursday, October 19, 2006 - 8:02 am: | |
---
well we went back to the old band name 'cause the new ones were all taken.

2nd gig with this singer but she's going back to her old band - we gotta new one lined up for f1rst practice friday night. last gig with this drummer (leaving because he's got a new job that leaves no time for a band - that one hurts - i really like this guy :-( )

oh well...

Got a last minute booking to do the pumpkin festival circuit last weekend. The weather was great. Friday night we were the last band to go on. Big crowd, pretty nervous. We're a rock band and it was a country crowd. Wasn't our best performance, but they liked us so much they asked us to open Sunday morning (besides that, all they had lined up for sunday was gospel and bluegrass so they needed some "balance"). We left our gear there under the careful watch of bubba the security guy so all we had to do sunday morning was show up, slam some beers and strap up. I went with the all wood setup: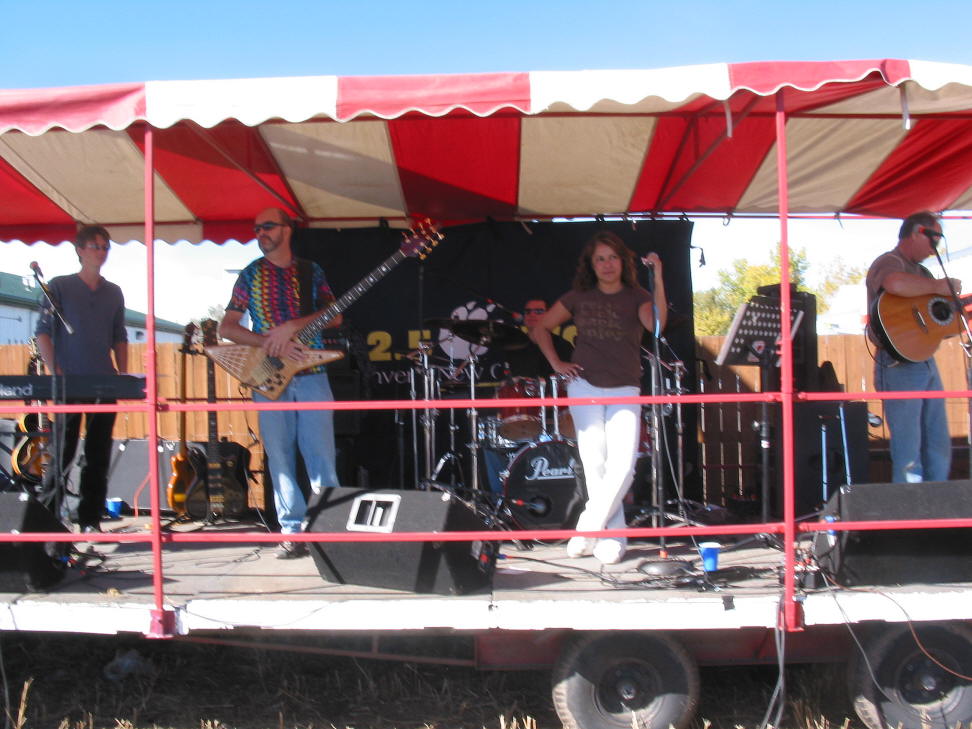 It was classic. Every time the singer jumped or danced, my stack would sway. It was out in the middle of a dirt field covered with straw and it was windy dusty and dry. we were set up next to the funnel cake booth. i had my hat handy to ward off the horseflies and wasps. to top if off, the only opening in the rail surrounding the stage was behind the drummer at the end of a 3 ft. wide passage. The pile of horse doody at the far end was a nice touch

but we had a really good performance and we rocked the place. landed a couple of gigs outta the deal. the sound guy really liked us (especially the alembic setup) and is gonna help us get a decent demo cut from the recording. not a bad experience all in all...