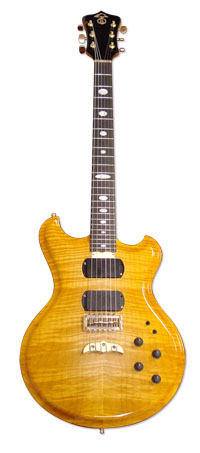 With its extremely pure sound, the Skylark may remind you of an acoustic guitar. Tune the filter frequency higher and get enough highs to satisfy any appetite for crunch. Ease up on the highs by tuning the filter frequency lower and cozy up to clear warmth perfect for jazz. With such versatility, the Skylark is a guitar you can rely on as your own musical ideas evolve.

Comfort and playability are the hub of the Skylark's design. The body features a large roundover on the back with a deeply carved tummy contour. The body hugs close and comfortably to your own.

Multiple scale lengths are available, including baritone scale. Same goes for the look. You can choose from several transparent colors or burst finishes on the standard flame maple top. You can even custom order any combination of features you imagine, after all, it's your guitar.